St. Lucia's dramatic landscape leaves a strong impression; the majestic Pitons tower nearly 3,000 ft. above the sapphire sea, creating a stunning backdrop from every angle. The island is also home to the world's only drive-in volcano and the stunning Diamond Mineral Baths and Waterfalls. Because the falls are laced with minerals, the water changes colors as it falls, creating a mesmerizing kaleidoscope of colors. Hike through the island's incredibly lush rainforests, visit enormous 2,000-pound leatherback turtles on Grande Anse Beach, and soak in the mud beneath the Sulfur Springs (legend has it, the mud makes you look and feel younger). St. Lucia is a verdant, unspoiled playground for those seeking natural beauty, romance, and adventure.
Luxury villas in St. Lucia each have their own architectural personality. Explore a range of uniquely-styled villas, including a 150-year-old restored French colonial plantation house, an intriguing villa built to look like a castle, a Spanish-style villa with a courtyard at its center, and an exotic villa that blends traditional West Indian and Eastern architecture. Whatever your taste, Villas of Distinction will provide the perfect villa for your unforgettable vacation in St. Lucia.
FEATURED VILLAS
Atlantis St. Lucia is a unique and impressive property, sprawling and spacious, but with a warm and welcoming family ambiance, and a layout designed for entertaining. Perched on top of its hilltop vantage point, secluded yet private Atlantis boasts a 10-minute drive to most amenities and attractions of Rodney Bay. The outdoor living area is a seamless extension of indoors, with comfortable areas for relaxing and dining, and access to the 60-foot infinity pool with its bird's eye vantage of the hills and golf course below. To the west, the panorama extends from Mount Pimard and Rodney Bay to Pigeon Island, with Martinique sometimes visible on the horizon; all around the property, balmy breezes and shady corners keep the indoor and outdoor spaces cool all day long.

Brise de Mar St. Lucia is situated at Saline Pointe in the exclusive Cap Estate community. Not only is the main living area open concept and spacious, but it also has an airy balcony with picturesque views of the ever alluring Caribbean Sea and the famous Pigeon Island National landmark, the beautiful Anse Du Cap beach seen from the villa is a short distance away. Sit back and take in the scene or host a lavish dinner party. This large spacious villa is great for the couple looking for a quiet and private get away as well as a family who desires a space to play and relax together.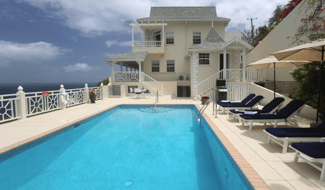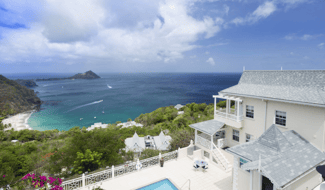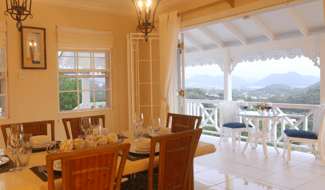 Colibri Cottage St. Lucia has it all, including what is believed to be the largest villa pool on the island—perfect for swimming laps or just floating around, lovely flower gardens humming with birds and butterflies, and porches and decks for reading or napping. Yet, a short drive away, there is much to see and do: botanical gardens, a rain forest, hiking, resorts with excellent restaurants—even a live volcano. The beach is steps away. Colibri is spacious, cozy and comfortable. Colibri Cottage is the perfect location for a small, intimate wedding, a family reunion or a group of friends (no more than 12) getting together. It is a quiet, peaceful place, perfect for unwinding and relaxing.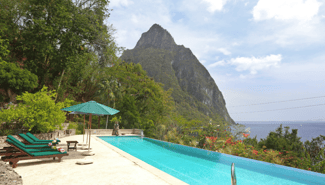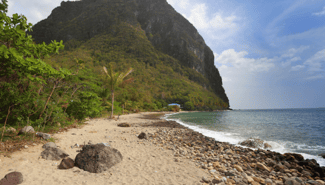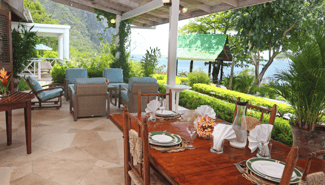 What Makes a Luxury Villa Vacation?
FEATURES & AMENITIES
We go above and beyond entertainment and surround sound. It's about private gyms, spas, children's spaces, al fresco dining, private gyms, and beyond. Nothing is too big or too extravagant for our guests.
STAFF & SERVICES
We offer and fully guarantee that our Concierge Services will take the guesswork out of your getaway. Additionally, many of our villas feature private chefs, butlers, gardeners, and more to elevate your experience.
SUPERIOR DESIGN & MAINTENANCE
We know that overall aesthetics matter, but it goes beyond that. All our villas feature impeccable landscaping and views, outdoor spaces, interior design and furnishings, and more. We also ensure that each villa is personally inspected and vetted, and every villa is maintained from top to bottom.