Embark with Avalon Waterways on your 2022 river cruise. Discover the European continent on its legendary rivers from the North Sea to the Black Sea. From the English Channel to the Mediterranean Sea, discover timeless tradition and beauty on the Rhine, Danube, Seine, and Rhône—to name a few. Cruise your way with countless combinations of land vacations before or after your river cruise.
SAVE $1,500 PER COUPLE ON SELECT 2022 EUROPE RIVER CRUISES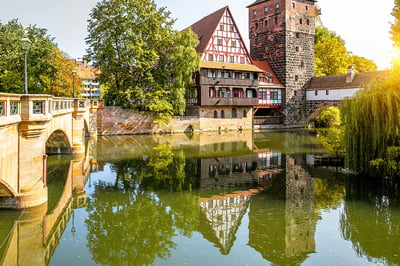 Beyond Avalon's wall-to-wall, floor-to-ceiling windows is a world just waiting to be discovered with Avalon's unmatched choice of included excursions and activities. Whether you want to enjoy a guided walking tour of one of Europe's great cities, join a cooking class or paddle a canoe, their Avalon Choice® selections of Classic, Discovery, and Active excursions offer a wide range of possibilities. When you prefer to explore on your own, they can help you with all the recommendations, information, and gear you need with their new Adventure Center and AvalonGO Mobile App. When it's time to refuel, your onboard dining options are as wide open as your views, with our new FlexDining® choices. Rise and shine when you please, dine where and when you wish, or take a picnic lunch to enjoy on shore.
RELAXED LUXURY, NEVER STUFFY
What defines luxury? Is it the enjoyment of the good things in life, or is it simply having things just the way you prefer them? Avalon Waterways navigates with both elegance and ease to deliver a "just right" experience—one that moves you at just the right pace, with just the right amenities, and just the right views. Along the legendary waterways of Europe, we balance enriching activities, included excursions, mouthwatering cuisine, and unmatched service to offer the perfect degree of relaxed luxury to be enjoyed effortlessly. That's the Avalon difference.
FREEDOM TO DREAM. ROOM TO RELAX
Avalon's focus on board is to ensure each guest is comfortable and relaxed, leaving the pomp and circumstance to others. Their pride comes from friendly, personalized service in perfect balance with the warm, inviting spaces throughout your Avalon ship. Your comfort and unsurpassed hospitality of the crew is why happiness flows on each and every Avalon ship.
SMALL DETAILS MAKE A BIG DIFFERENCE
It's the little things. From luxurious L'Occitane® bath products on a marble countertop to your choice of mattress firmness. It's premium spirits in their upscale bar, and 24-hour self-service beverages whenever you crave a cappuccino, hot chocolate, or something sweet to eat. It's a well-stocked library in the Club Lounge to play a game of cards or the choice to sleep late with complimentary continental breakfast served in your room. Included wine with dinner is nice. Even better is wine from the vineyards you've seen out your window. You'll find these and many more small details throughout your Avalon Suite Ship® to make you smile. That's the Avalon difference.