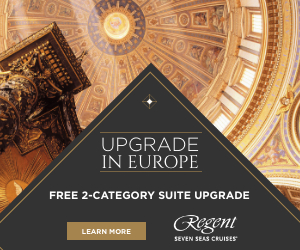 You're invited to Upgrade in Europe in 2022 with a FREE 2-Category Suite Upgrade, and 50% Reduced Deposits*.
Your can begin your journey abroad with a FREE 1-Night Pre-Cruise Hotel Package before experiencing the comfort and space of your upgraded Concierge Suite or enjoy the personalized and professional service of your own butler in an upgraded Penthouse Suite.
Wherever you're longing to venture to, be it the rolling green hills of the Emerald Isle or the ancient sights of Ephesus, we encourage you to Upgrade in Europe and book by June 30, 2021.
---
With Regent, Every Luxury is Included†
Free Roundtrip Business Class Air on Intercontinental Flights
Free Roundtrip Air on Domestic Flights
Free Unlimited Shore Excursions
Free 2-Night Land Programs
Free 1-Night Pre-Cruise Hotel Package
Free Unlimited Beverages
Free Open Bars and Lounges
Free Airport Transfers
Free Unlimited WiFi
Free Specialty Restaurants
Regent Seven Seas Cruises has recently announced their SailSAFE™ Health and Safety Program. Regent is dedicated to providing guests and crew with the ability to travel and enjoy the world while doing everything to make that voyage as safe as possible. Read more here.