Sample Land Itineraries
UNITED STATES
Cowboy Country (8 Days)
Destinations: Jackson, Rapid City, Grand Teton National Park, Mt. Rushmore National Memorial, Yellowstone National Park, Crazy Horse Memorial
Hit the trail for a true Western adventure…the ultimate family trip to Wyoming and South Dakota. Experience life on the ranch… whoop it up at a rodeo… explore treasures of the National Park Service… and learn the stories of the people who shaped the Wild, Wild West.
EXPERIENCE WITH TAUCK: A peek into the story of the Mormon Row Historic District inside Grand Teton National Park and the effort to preserve its historic structures, supported by Tauck
TAUCK VALUE INCLUDES

---
Southern Charms (8 Days)
An unforgettable trip through coastal South Carolina and Georgia, places reminiscent of long-ago days of gracious Southern living... a rarefied world of plantations, 19th-century mansions, magnolias and live oaks hung with Spanish moss...
Explore National Historic Landmark Districts in Savannah, Charleston, and Beaufort... visit Fort Pulaski... stay beachfront at Hilton Head Island... stroll through the gardens of Middleton Place... discover Savannah's beloved Madeira traditions on an exclusive private evening... a hands-on culinary demonstration focusing on dishes representing the unique cuisine of the coastal Low Country region... tour the islands off Beaufort, South Carolina... take a private cruise in Charleston Harbor... celebrate 300 years of history in Beaufort... and more. Tauck's Southern Charms journey is as refreshing as a cool glass of sweet tea!
TAUCK EXCLUSIVE – Insider stories about the Civil War during filmed narratives by filmmaker Ken Burns
TAUCK EXCLUSIVE - A taste of Savannah's beloved Madeira traditions at the Federal-style Davenport House Museum
TAUCK EXCLUSIVE – Tour the Sea Islands off Beaufort, South Carolina
TAUCK VALUE INCLUDES:
Dinner at 45 Bistro in Savannah's oldest hotel, The Marshall House
Visit to Savannah's Massie Heritage Center plus culinary demonstration and lunch featuring Low Country cuisine

---
EUROPE
Classic Italy (14 Days)
Think of Italy and a host of images comes to mind... the glories of Rome, taking shape in the now silent roars of the Colosseum, priceless works of art by Michelangelo and other famed Italian artists whose masterpieces eternally evoke awe in Europe's greatest museums...
Discover bella Italia on one of Tauck's most popular journeys, in scenic Tuscan hill towns, centuries-old cities and countryside villages, and along the Amalfi Coast. In the treasures of Florence, coloring an era of enlightenment with a rich palette of paintings and architecture by Renaissance luminaries like da Vinci, Botticelli and Brunelleschi... along saltwater roads in Venice lined with magnificent palaces frozen in time.
In sun-dappled Tuscan villages, medieval icons reigning over vineyard-draped landscapes that produce wines and foods that are regionally inspired, locally flavored and ultimately delizioso... and on an after-hours guided visit to the Vatican Museums and the Sistine Chapel for an extraordinary look at ageless masterpieces – without the crowds – during a three-night stay in the Eternal City.
EXPERIENCE WITH TAUCK
TAUCK'S YELLOW ROADS – Encounter spectacular scenery around every bend on a drive along the celebrated Amalfi Coast – the perfect blending of earth, sea and sky
TAUCK EXCLUSIVE – After-hours guided visit to the Vatican Museums and the Sistine Chapel, without the crowds – see the Vatican treasures at your own pace
TAUCK VALUE INCLUDES:
A wine tasting from local vineyards in Umbria, where you'll also discover the secrets of making Perugia's famous chocolate
An in-depth briefing by an art historian before a walking tour of Florence
Guided visit through the famed Galleria dell'Accademia, the oldest art school in Europe

---
Romantic Germany (14 Days)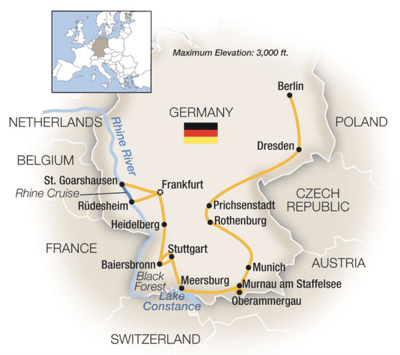 Journey along the scenic "Yellow Roads" – such as the scenic Black Forest High Road and the fabled "Romantic Road" – through fairy-tale forests and past medieval castles... where timeless tales are told in storied towns such as Heidelberg, Munich, Frankfurt, Dresden, Rothenburg and Berlin... explore the compelling history, varied landscapes and diverse cultural traditions personifying Germany today. And in 2022, we include Bavaria's once-in-a-decade Oberammergau Passion Play.
Take a private cruise on the Rhine; dine at a romantic Black Forest pudelstein hut; take a private tour of the New Green Vault in Dresden's Royal Palace, and enjoy special dinner atop the historic German Parliament building (Reichstag). Attend a cooking demonstration – or take a tour of the Mercedes-Benz Museum; enjoy a sparkling wine and lunch featuring "horseless carriages," a choice of visits to select Berlin museums and more. From the Rhine River valley to the mountains of Bavaria, there is something exciting every day of this in-depth two-week trip that immerses you in Romantic Germany.
EXPERIENCE WITH TAUCK
Wine lunch, transported in style via old-timer Aaglander "horseless carriages" – the same ones used during the 2018 German Royal wedding
Special farewell reception in Berlin at a chic restaurant atop the German Bundestag, the national Parliament of the Federal Republic of Germany, overlooking the city
Dinner at a romantic "pudelstein" hut in the heart of the Black Forest
A private tour of the New Green Vault in Dresden's Royal Palace

---
Sample Small Ship Cruising Itineraries
Treasures of the Mediterranean Isles (12 Days)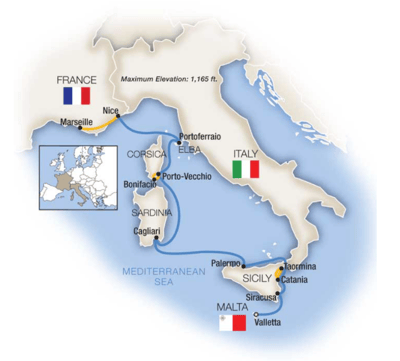 Cruise on a brand new small ship to the islands of Corsica, Sicily, Elba, Sardinia, and Malta, on a 12-day odyssey to medieval towns and baroque cities – including Catania, Noto, Valletta, Siracusa, Cagliari, and Taormina – where Greeks, Romans, Phoenicians, and Carthaginians have all left their mark. Discover ancient ruins and ornate cathedrals, palaces, monasteries, hidden gardens, coastal villages, and outstanding wineries. Admire the view from Napoleon's hillside villa in Portoferraio; immerse in the breathtaking panoramas at the top of Mount Etna; explore Bonifacio, a labyrinthine citadel perched on sea-cliffs above the dramatic Corsican coast; lose yourself in the rich Baroque art of Sicily, the intimate classical charm of Ortigia, and the charming village of Aix-en-Provence.
You will also spend two nights on land, in luxury hotels in Marseilles and the island of Malta. Local guides and expert lecturers offer insights along the way, and your ship is designed to access small harbors and remote destinations where large ships can't go,
EXPERIENCE WITH TAUCK
Explore the Corsican citadel of Bonifacio, perched on soaring sea-cliffs, with its medieval fortress, maze of streets, churches, mausoleums, and unique history
Visit the prehistoric temple complex at Hagar Qim on Malta, a UNESCO World Heritage Site older than Stonehenge
Discover Ortigia, a small island-city within the city of Siracusa – a romantic enclave of ancient temples and baroque architecture
Explore the summit of Mount Etna, Europe's largest volcano, with an experienced mountaineer-guide, and savor some of the most dramatic panoramic views of Sicily and the Mediterranean
TAUCK VALUE INCLUDES
Visit the waterfront Museum of Civilizations of Europe and the Mediterranean in Marseille, chronicling centuries of Mediterranean cultural influences in Europe
Private Tauck Shore Excursions – $2,912 value!
Enjoy exclusive visits to private villas and art collections in Palermo, drinks and canapes included

---
Venice & the Dalmation Coast (10 Days)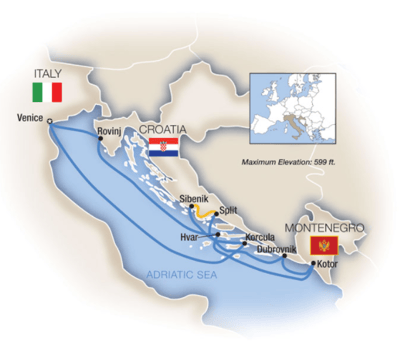 Walk to places immortalized with local color, sip and savor wines masterfully crafted, toast traditions and tales fondly shared, and become part of the stories, past and present, that make your vacation memories last lifetimes. Guided visits and shore excursions choices include revered UNESCO World Heritage sites as you cruise between Venice, the Dalmatian Coast and Montenegro. Discover the architectural masterpiece that is Venice, the Gothic Cathedral of St. Lawrence in Sibenik, the ancient Roman Palace of Diocletian in Split, the walled city of Dubrovnik, renowned for its Gothic, Renaissance and Baroque monasteries, palaces, fountains, and churches, the stunning harbor town of Kotor, and the lavender-scented island of Hvar.
Le Lyrial, perfectly sized and ideally suited for island exploration where the bigger ships can't go, charts a course for destinations of scenic serenity like the Bay of Kotor in Montenegro, where private shore excursions reveal maritime treasures and seaside settlements worthy of leisurely discovery. Two nights at a premier hotel in Venice bring the aura of daily life amidst architectural masterpieces, ancient squares and the ever-present lacework of canals.
EXPERIENCE WITH TAUCK
In-depth shore excursion choices including visits to revered UNESCO World Heritage Sites in Venice, Dubrovnik, Sibenik, Kotor, Stari Grad Plain and Split
TAUCK VALUE INCLUDES
All gratuities to Tauck Director, ship staff and local guides
Seven-night cruise aboard the yacht Le Lyrial
Tauck's private shore excursions and distinctive inclusions valued at $2,270
Choice of all-included shore excursions most days

---
River Cruising
Heart of the Danube: Budapest to Bavaria (8 Days)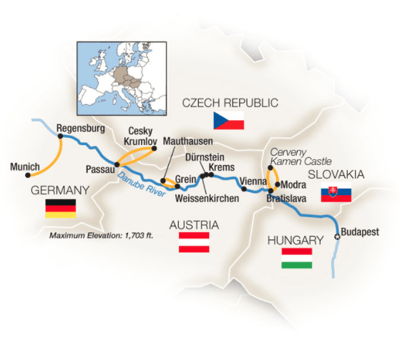 When your road is the Danube, it's enchanting... Austria, Slovakia, Hungary and Germany are linked by peaceful river landscapes dotted with storybook castles and romantic villages surrounded by stone terraced vineyards, where making world-class wines – and tasting them! – is an art.
A wonderfully preserved medieval castle and town in the Czech Carpathian mountains are as awe-inspiring as the palaces and museums of Imperial Vienna. As you cruise from port to port, explore the cobblestone streets and market squares in the Old Towns of Bratislava, Cesky Krumlov, Grein, Passau, and Regensburg, each offering unexpected cultural treasures and culinary pleasures around every bend. And the pièce de résistance – a Tauck Exclusive gala evening with music and dancing at a private palace conjures up elegant Old World Europe just for Tauck guests!
EXPERIENCE WITH TAUCK
TAUCK EXCLUSIVE - An Imperial Evening at a private Vienna palace with dinner and classical performers
Wine-tasting event at the village of Weissenkirchen, in Austrian wine country
TAUCK VALUE INCLUDES
All gratuities to ship staff, drivers, local guides, Tauck Directors and Tauck Cruise Directors
Tauck's private shore excursions and distinctive inclusions – $1,554 Value
Choice of sightseeing in Passau or medieval Cesky Krumlov in the Czech Republic

---
Impressions from the Seine: Paris to Normandy
Unique experiences include a Tauck Exclusive evening at Château du Taillis, a palatial private residence in Normandy, where guests will enjoy a reception, dinner, music, and a tour of the château's small museum of World War II artifacts; and a private early-opening guided visit to the home and gardens of the painter Claude Monet at Giverny, where he painted many masterpieces, followed by free time to explore the nearby Impressionist Museum as you please; and in Paris, a choice of activities including a visit to Père Lachaise Cemetery, known for its ornate tombs and notable "residents" linked to Parisian history, like Marcel Proust, Frederic Chopin, and Edith Piaf, and a choice of museum visit.
Highlights include Versailles, for guided visit inside Louis XIV's magnificent palace and gardens at Château de Versailles; Rouen, where a walking tour includes visits to Cathédrale de Rouen and Joan of Arc Square with a local guide; the D-Day Beaches of Normandy, with guided visits to Pont du Hoc, Omaha Beach, and the American Cemetery along with lunch at the Omaha Beach Club; Les Andelys for a guided walking tour and a visit to Château Gaillard; and Tilly, for cider and Calvados tastings and a Normandy farm tour.
EXPERIENCE WITH TAUCK
TAUCK EXCLUSIVE – Dinner at 16th-century Château du Taillis in Duclair
TAUCK EXCLUSIVE – Private visit to the Musée du Louvre
TAUCK VALUE INCLUDES
All gratuities to ship staff, drivers, local guides, Tauck Directors and Tauck Cruise Director

Tauck's private shore excursions and distinctive inclusions valued at $1,560
Choice of sightseeing including visits to the Opéra Garnier, a walking tour of the Latin Quarter, or a visit to Père Lachaise cemetery
A locally guided walking tour of historic Rouen, including the Cathedral painted by Monet more than 30 times and Joan of Arc Square

---
If the above sample itineraries aren't exactly what you're looking for - no worries! Tauck has a seemingly endless variety of destinations and trips around the world.