There's Still Time To Discover Europe In 2022 + Save!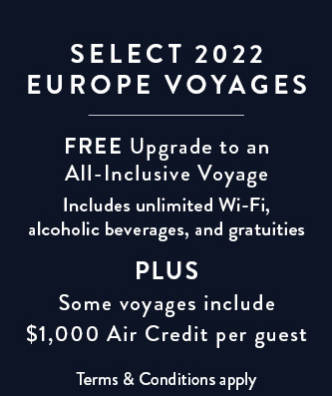 Windstar knows the way to make your 2022 European voyage a reality. There is still time to make plans, and we're offering guests on select voyages a free upgrade to an All-Inclusive sailing AND on some voyages you'll even receive the All-Inclusive Package AND an air credit of $1,000 per guest to help get you there.
With the upgrade to an All-Inclusive cruise, you will enjoy unlimited Wi-Fi, alcoholic beverages, and gratuities (over $1,000 per stateroom value).
France, Italy, Spain, Portugal, Greece, Croatia, Iceland, Norway and more are waiting for you to explore. Each country has its own unique cultures, traditions, flavors, and languages and Windstar knows the way to deliver you to the doorsteps of them all. Don't let summer 2022 pass you by. Book now for extraordinary value.
Serving just 148 to 342 guests, our sailing and all-suite Star Plus Class yachts are also small enough to maneuver into the heart of many of Europe's marquee ports. This unique access means more time to immerse yourself in these ports' iconic sights, cultures, and tastes while on land. Enjoy overnight stays and late-evening visits that allow you to watch the sunset and take in the nightlife.
Book by July 15, 2022 for this extraordinary offer!
Don't miss this opportunity—make your reservations today!
Taking Small Ship Cruising in a Different Direction
With spacious ocean-view staterooms, World Spa by Windstar, and exquisite regional dishes created in partnership with all-star chefs, prepared on board using fresh, local ingredients, you're set up for a vacation that'll delight your senses. And because Windstar yachts carry only 148-342 guests, you'll enjoy more personalized service in a warm atmosphere on board that fosters sharing stories at the end of the day that can turn into lasting friendships.

You can set sail with confidence on Windstar knowing that your health and safety is a top priority with their Beyond Ordinary Care program. Plus, their flexible Travel Assurance Booking Policy allows you to change your 2021 cruise to 48 hours prior to departure for 100% Future Cruise Credit in case your plans do change.
Windstar's yachts get you closer the world's most interesting places—tucking into hidden Tahitian lagoons, docking at tiny Italian port villages, and taking you further up narrow Alaskan fjords. Then you get to experience the region's culture in authentic ways that make you feel more like a local than a tourist, with their award-winning curated excursions and the ability to stay at port longer, often overnight.