Luxury Travel Packages to the 2022 World Cup in Qatar
Roadtrips' 2022 World Cup packages are customizable, allowing guests to see Qatar and experience this illustrious tournament the way they want. The 2022 World Cup will offer up some wonderful experiences in addition to the incredible soccer and guests are going to be very impressed with the host country. Qatar offers gorgeous beaches, enticing markets, world-class museums, impressive architecture, and unique landscapes.
Qatar's Best Hotels
Qatar is an incredible travel destination but top quality accommodations are scarce, especially when compared to other World Cup host countries. In particular, hotels that rival the level and location of the St. Regis Doha and the Dusit Doha are extremely limited and demand is high. Roadtrips is thrilled to be able to offer these properties — two of the best in the country — to guests as part of their World Cup experiences. In addition to the luxe accommodations, guests will also have their choice of exciting tours, airport and match transportation, and much more. In addition, all guests will receive the high-touch service Roadtrips has become known for, including the services of their 24/7 multilingual on-site host team.
A Once-in-a-Lifetime Experience
The venerable World Cup is an event like no other. The size, the preparation, and the excitement is unparalleled; as a result, the demand always seems to exceed the supply. Millions of people around the world will have dreams of experiencing this iconic event but unfortunately, there will only be space for a limited few. We'll work with Roadtrips' World Cup Specialists to take the first step in securing your spot in sports history.
---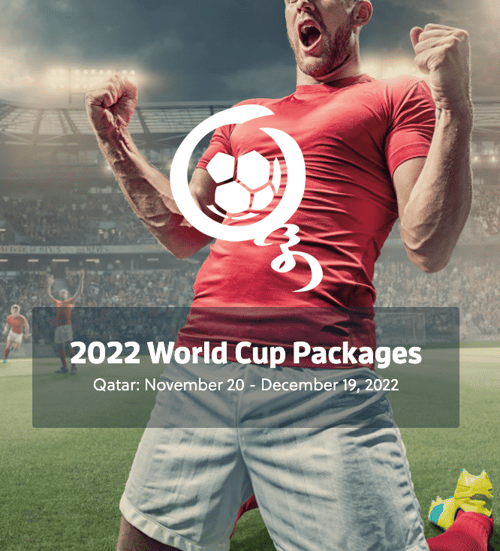 Roadtrips Takes Care of All the Details
When you travel with Roadtrips, you'll be fully taken care of every step of the way by a friendly and experienced team. Before you leave, your dedicated personal concierge will be at your service to assist with all the small details that will make your trip perfect. Take advantage of their experience and expertise for help with recommendations and reservations for things like restaurants, tee times, tours and more. It's the goal of the personal concierges to ensure you have everything you need and that you're fully prepared before you depart on your World Cup experience.
During your stay in Doha, you'll have 24/7 access to Roadtrips' experienced onsite host team, made up of experienced event specialists and multilingual local experts. They'll do everything they can to take the stress out of your holiday and make your experience as seamless as possible. Their high-touch service includes a meet-and-greet when you arrive, staying in close contact with you throughout your stay, and seeing you off when it is time for you to depart Qatar. You can rest assured this onsite host team is at your disposal anytime via phone, text, email, or in person for anything you need during your 2022 World Cup experience.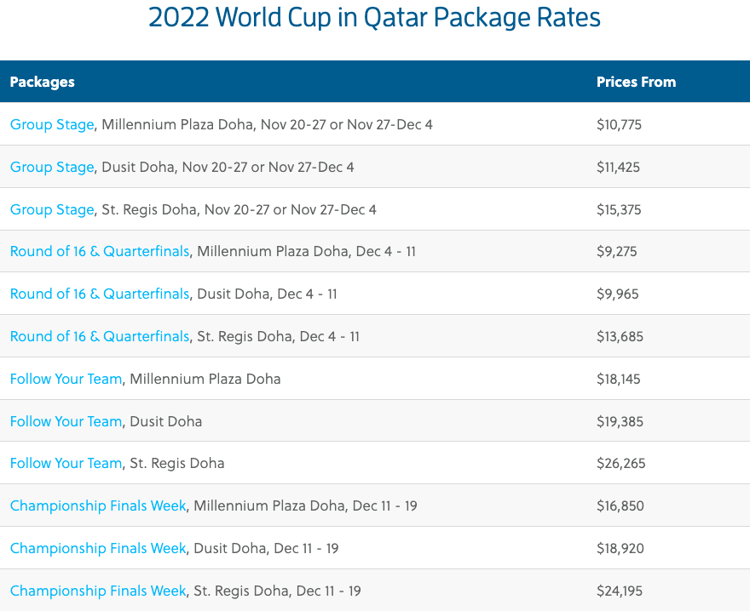 *Rates are per person in USD based on double occupancy. Single occupancy rates are available. Triple and Quad occupancy may be available. Rates include all local and state taxes. A 50% deposit is required to secure your package. Final balance will be due 90 days prior to travel. Availability and pricing subject to change prior to booking.
Roadtrips is in no way associated with FIFA, the Organizing Committee for the FIFA World Cup, Qatar 2022, MATCH Services or MATCH Hospitality. The term World Cup is used only for the purpose of properly describing certain events and without the specific permission of FIFA. Roadtrips travel packages and services are not affiliated with FIFA. FIFA's official ticket site is www.fifa.com/tickets. Due to compliance with France law, we regret that we are unable to provide packages for France residents for this event.
Discuss a luxury Roadtrips package with our advisors today: