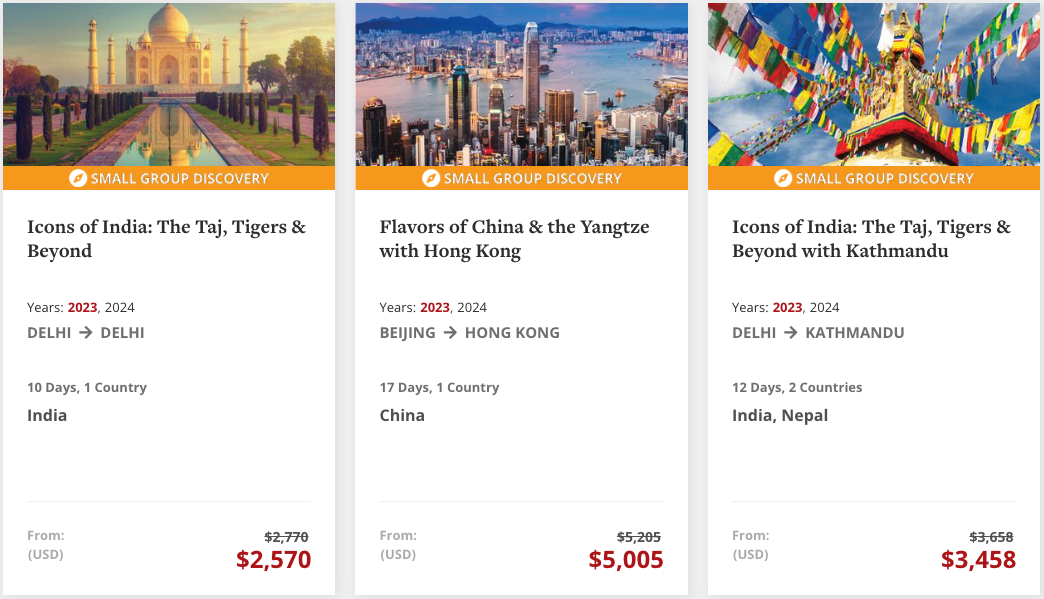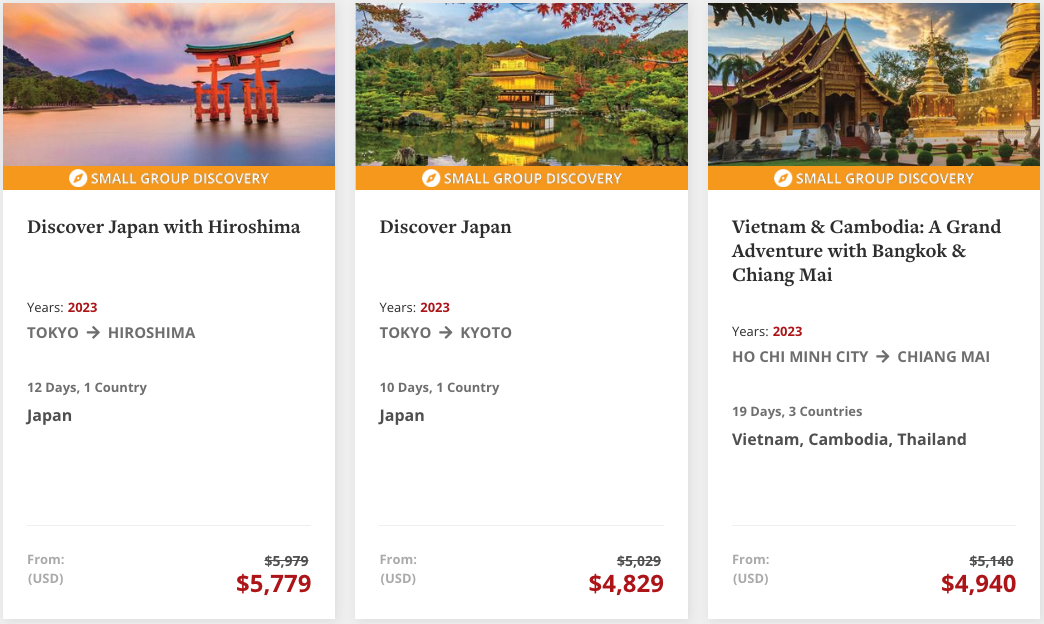 The "Starting at" or listed price is based on the lowest price available to book. Price is per passenger based on double occupancy and does not include International airfare; additional fees/charges are not included. If a price is crossed out, the new price shown includes a limited time promotional offer(s) – please review current promotions or deals for additional information. Some tours require intra-vacation flights (and in some cases intra-vacation segments must be purchased from Globus).

Adventure, a la Carte
While Globus vacations get you up close and personal to the world's must-see sights and unforgettable experiences, they also know the value of spending time on your own to explore as you please. After all, travel is meant to be filled with memorable moments of your own with serendipitous surprises that can't be planned or scheduled. They build free time into every itinerary so you can leisurely explore the beckoning bookstore, tempting café table, or whimsical window shopping that's schedule free. Don't wait a lifetime for that once-in-a-lifetime experience that's waiting just around the corner!
Pick your Passion.
Maybe you're an art lover, a foodie, or a history buff. Perhaps you're moved by music, art, cuisine, or theater. Or maybe making tracks in the great outdoors is more your speed. Globus offers a wide array of optional excursions and activities—tailored to a variety of fitness levels and interests—so you can customize your adventure with your own personal passions and preferences. Each Globus excursion and activity has been personally tested by us and handpicked to allow you to really get to know each destination. You never have to choose between included and optional excursions, since optional activities fit seamlessly with your vacation schedule!
Don't Miss the Must Sees.
Why stand in line to catch a fleeting glimpse of ancient ruins and remarkable historic sites? Globus gives you VIP access with an expert Local Guide to go deeper, get closer, and soak it all in. From the Parthenon to the Vatican museums, you'll explore Europe's most beloved locations without getting lost in a crowd or waiting in line. Don't just file past masterpieces like Michelangelo's David or get only a hurried look at the Crown Jewels in Edinburgh Castle. Experience Europe's extraordinary sights—and historic sites—with the VIP access you deserve.
A Friend in Every City.
Join us and a few of our friends in your next dream destination. After all, we've spent over 90 years making friends in virtually every city and country in the world who let us in on local secrets, like where to find the best scone, stein, or spumoni; the best people-watching table; or the best view of wide-open spaces. Every Globus vacation includes local experts who share the stories behind the sights and Local Favorites you won't find in the guidebooks. Globus Tour Directors and Local Guides hail from the region through which you're traveling. No one is more familiar, passionate, or eager to share insider knowledge than our local pros!
Plan and book your Globus vacation with our advisors today: