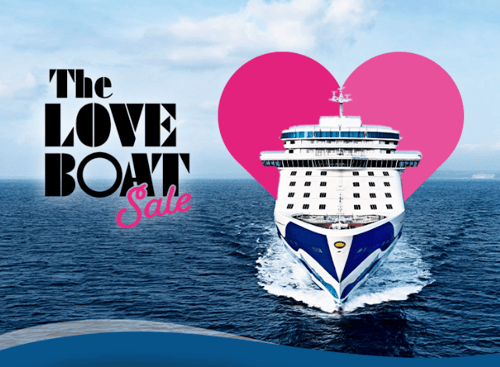 The romance of the high seas is just one of many things you'll love about cruising with us. Set sail on the real Love Boat, and set a course for adventure to some of the world's most beautiful destinations. Enjoy VIP treatment with service that's all about making you feel special.
Book with us now during the Love Boat Sale for more you'll love – drinks, Wi-Fi and crew appreciation included plus $100 shore excursion credit. That's a $765 value per guest on a 7-day cruise!

For over 50 years, Princess has been bringing people closer, because lasting memories are made when we share our hearts, share our worlds, and truly create connections that matter. So don't just go on vacation, gather your loved ones, try new foods, discover new lands and experience new adventures, together. Discover what makes each port unique through the insights of local experts and crew members who sail with you to over 380 destinations. Embark on adventure with exclusive Discovery™ and Animal Planet™ shore excursions, and enjoy late night departures and overnight stays with More Ashore.
The innovative Princess MedallionClass™ vacation offers the ultimate in effortless, personalized cruising. It begins with your OceanMedallion™, a quarter-sized, wearable device that enables everything from touch-free boarding to locating your loved ones anywhere on the ship, as well as enhanced service like having whatever you need, delivered. Spend more time connecting with each other and doing what you love on a Princess MedallionClass™ vacation.
Princess's Alaska cruises are your ticket to adventure amidst the Great Land's glaciers, wildlife and national parks. Voyage through the untamed beauty of the Last Frontier from the comfort of their world-class ships, exclusive rail service and Princess Wilderness Lodges near national parks. Choose from a variety of Alaska cruise and cruisetour itineraries and connect with loved ones, locals and Alaska's wilderness with Princess®.
---
It's never been so easy to find a great value vacation. Get all 5 Princess Perks included.
✔ Drinks – Enjoy our Premier Beverage Package, which includes cocktails, wine, beer, fountain soda, bottled water, specialty coffees, teas and more.
✔ Wi-Fi – Stay connected with family and friends - posting, video chatting, sharing - thanks to the best Wi-Fi at sea.
✔ Gratuities – We pay gratuities on your behalf, so the crew who takes such good care of you is taken care of too.
✔ Stateroom Location Upgrade – Sail in an even better spot on board. Choose your preferred location within your stateroom category at checkout, and we'll cover the additional cost.
✔ Specialty Dining – Dine at one of our award-winning restaurants, where every meal feels like a celebration.