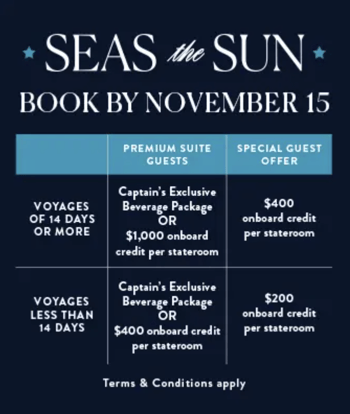 Now Through November 15
Seas the Sun whenever and wherever you wish with Windstar. Our sailing and all-suite yachts follow the warm weather to the Caribbean, the Middle East, Tahiti, Costa Rica & Panama, and other tropical destinations. What's more, you're in for a sunny surprise when you book your voyage now - a bonus onboard credit or Captain's Exclusive Beverage Package: unlimited beer, wine, and cocktails by the glass valued at $65 per guest, per day.
Now is the best time to plan your winter escape! Book August 1-November 15, 2023, on selected departures through May 2024, and receive an onboard credit up to $1,000 per stateroom or suite. For guests sailing in Premium Suites, you can choose between onboard credit OR a Captain's Exclusive Beverage Package which includes unlimited beer, wine, and cocktails.
Whether you choose sails or suites, the sun is never far from a Windstar yacht. And because we serve only 148 to 342 guests, onboard life is unscheduled and uncrowded. We're able to dock in yacht harbors and small ports away from crowds or spend the day in shallow coves where you can jump right into warm, crystal-clear water directly from the Watersports Platform.
Offer:
Up to $1,000 Onboard Credit per Stateroom or Suite ($500 per person)
Guests in Premium Suites choose between Onboard Credit or a Free Unlimited Beverage Package (Value $65 per guest, per day).
Yacht Club Members: Receive 5% additional savings.
Guests can always choose to cruise All-Inclusive for only $89 per guest, per day and receive unlimited alcoholic beverages, Wi-Fi and all gratuities.
Star Collector Voyages of 13 days and longer receive complimentary laundry service.
*All pricing in USD.
Excluded Cruises and Cruise Tours:
Star Legend--Nov 20 & 23, 2023 all itineraries
Wind Surf--May 21, 2024 all itineraries
---
Taking Small Ship Cruising in a Different Direction
With spacious ocean-view staterooms, World Spa by Windstar, and exquisite regional dishes created in partnership with all-star chefs, prepared on board using fresh, local ingredients, you're set up for a vacation that'll delight your senses. And because Windstar yachts carry only 148-342 guests, you'll enjoy more personalized service in a warm atmosphere on board that fosters sharing stories at the end of the day that can turn into lasting friendships.

You can set sail with confidence on Windstar knowing that your health and safety is a top priority with their Beyond Ordinary Care program. Plus, their flexible Travel Assurance Booking Policy allows you to change your 2021 cruise to 48 hours prior to departure for 100% Future Cruise Credit in case your plans do change.
Windstar's yachts get you closer the world's most interesting places—tucking into hidden Tahitian lagoons, docking at tiny Italian port villages, and taking you further up narrow Alaskan fjords. Then you get to experience the region's culture in authentic ways that make you feel more like a local than a tourist, with their award-winning curated excursions and the ability to stay at port longer, often overnight.