Space travel is about to get safer, more comfortable, and even more thrilling. Space Perspective, Planet Earth's leading luxury space travel company, unveils the patent-pending Spaceship Neptune capsule design now in production at the company's state-of-the-art campus, near its Operations Center at NASA's Kennedy Space Center, Florida.
As the only carbon neutral way to space, Space Perspective continues its pursuit of proprietary space travel innovation. Thousands of virtual flight tests, simulations, and analysis runs with cutting-edge technology from Siemens Digital Industries and AWS resulted in the pioneering capsule and splash cone designs. An elegant spherical exterior maximizes the 360-degree panoramic views via the largest-ever, patented windows to be taken to the edge of space and a roomier Space Lounge interior, offering plenty of headroom as Explorers move around the capsule. The proprietary splash cone ensures Spaceship Neptune's ocean landing is gentle and safe.
Space Perspective is revolutionizing space travel - and is a world away from rocket-fueled space endeavors. Explorers on board Spaceship Neptune, taking flight commercially from the end of 2024, will safely ascend to the edge of space in the climate-controlled, pressurized capsule, propelled by a patented SpaceBalloonTM, absorbing the phenomenal beauty of Earth from space. The six-hour round trip enables anybody who can board an airplane to soak in the beautiful views of the thin blue line circling earth below and the dark vastness of space above.
---
From the moment your deposit is confirmed, you are a member of the Space Perspective Explorer community. We'll welcome you with a package that provides details about your journey and many other benefits. You'll receive regular updates from our team, introductions to fellow Explorers and the Space Perspective team, exclusive event invitations, and more. As your flight date approaches, you'll be guided through booking your travel to our launch site, accommodations on site, and a range of bespoke amenities and services.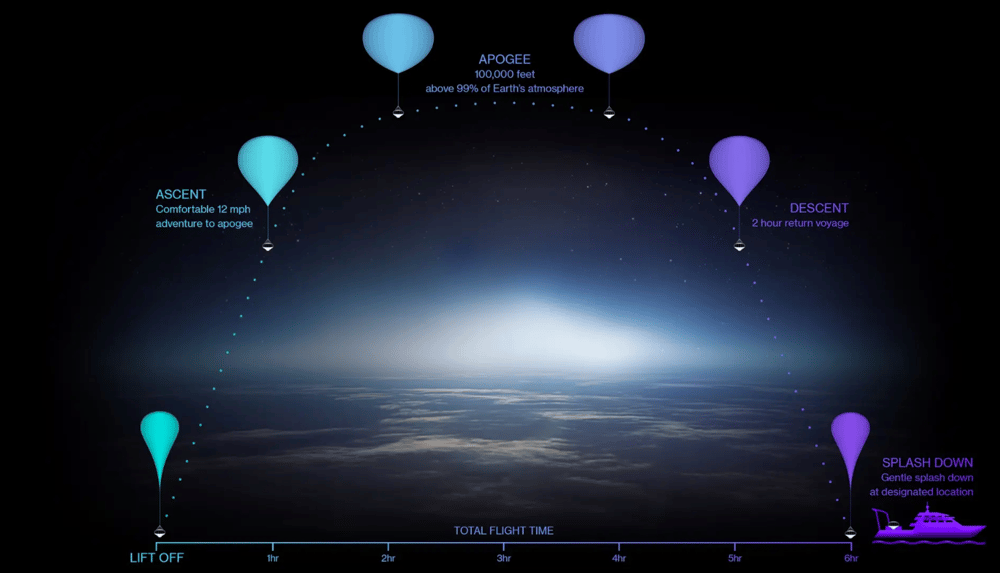 Your Journey
Space Perspective has designed your journey to be exhilarating and celebratory, with ample time for quiet contemplation. Astronauts refer to the impact of seeing Planet Earth from space as a paradigm shift that forever changes their outlook. Over six unforgettable hours, you will ascend to the edge of space and join the lucky few—only about 600—who have looked down at our home from above.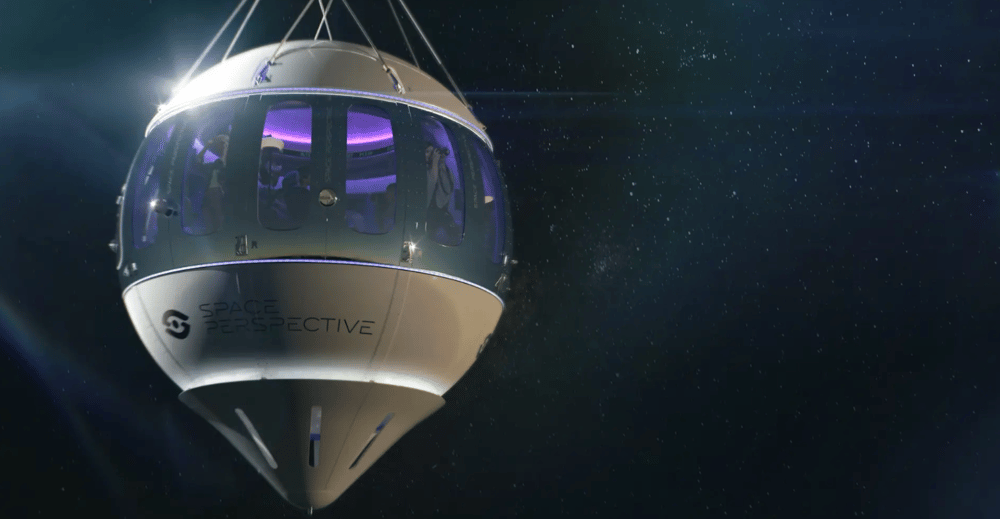 Share cocktails, chat with your fellow passengers, and select the perfect playlist for the climb. Naturally, our capsule has a fully-equipped restroom with an unbeatable view. From the Space Lounge, Explorers will have astonishing, 360-degree visibility through the largest windows ever flown to space. The high-speed Wi-Fi connection will allow you to bring your family and friends back on Earth along for the ride.
Your experience is highly customizable—if you can dream it, our team is ready and waiting to work with you to make it a reality. From the menu and cocktails onboard, to the soundtrack and lighting, your individual preferences may be incorporated into your flight. For Explorers who reserve a full capsule, the modular design of the space lounge can accommodate changes to seating configurations and incorporate additional hospitality features, like tables for a unique dining service.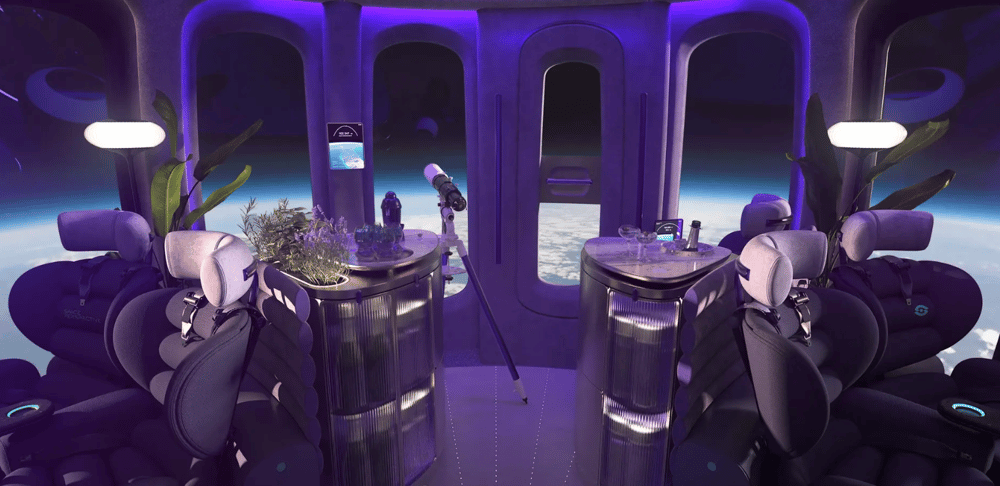 As one phase of your journey concludes, another begins. You now share a lifetime bond not just with other members of your crew and the Space Perspective community, but with every individual who has experienced space travel. We'll share individualized video coverage from your flight experience, and you'll continue to receive updates from us, including invitations to Space Perspective events worldwide. We expect that this trip will have a profound impact on your outlook, and we hope you'll continue to share your experiences with us and with others.
Book Your Spaceflight Experience
Are you ready to be at the forefront of this exciting new era of space travel? Your adventure to the edge of space awaits.
The first flights scheduled for 2024 have sold out. Secure your place in space history now and be among the first to explore and rediscover Planet Earth from an entirely new perspective.
Have a question or would like to inquire about a priority flight? Submit a Trip Request below.
Total Voyage:
$125,000 USD per Explorer
$1,000 USD refundable deposit per seat